For more detailed information please Click here to take a look at the Ultratest Genesis website.
How can Genesis reduce your costs & maximise your return?
The Background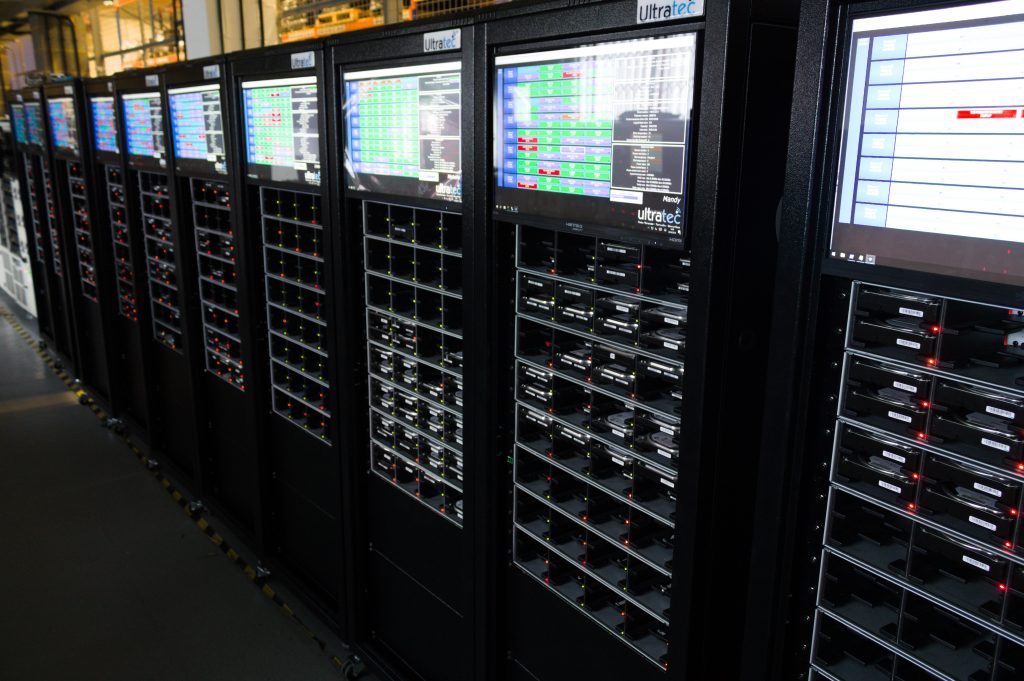 The Genesis disk testing solution was born in the repair labs of Ultratec Limited UK, an award-winning provider of integrated data security and IT recycling solutions since 1996. Through our innovative engineering efforts – the Genesis solution brings the Ultratec repair lab to your facility.
The Purpose
The Genesis system enables large scale ITAD providers to implement high volume drive testing with a fully automated platform that allows non-technical labour to test SAS/SATA/SSD
HDD with zero operator intervention.
The Value
With our proprietary testing and repair protocols, Genesis customers can yield 23 times the working HDD's for reutilization and resale, while minimizing labor, space, and waste stream contributions.
The Bottom Line
A more manageable and mature process for your operations that will help you capture greater market share and operating margins.
Systems Overview
Hardware Highlights
Custom designed by Ultratec for unsurpassed processing times
Up to 96 ports in a 19" rack form factor
Integrated networking, power, cooling, and 21.5" touchscreen monitor
NRTL certified
ADISA Product Assurance Certified

Ultraport-our custom plug and play drive mount system
Ultraport accepts any SAS/SATA 2.5/3.5 drive without extra hardware
Truly plug and play, the operator simply inserts the drive and the test executes in seconds
Each Ultraport is crafted from a special ESD compliant plastic to support an ESD compliant workspace
Fully Supported
Onsite hardware support and parts exchange
24x7xNBD Customer support
No more wasted time supporting homegrown hardware solutions.
Ultratest Software
Ease of use for Operators
Ultratest GUI provides test status at a glance
Touchscreen interface is fast and efficient
Operators simply load the drives and touch the screen to initiate a test
Ease of use for Managers
Easily configure Genesis test schedules to run unique tests for each port
Support any mix of drives necessary
Our cloud system pushes updates you've approved to your production systems, ensuring easy access to the most current approved test scripts and software revisions
Reporting and Process Management
Review Genesis productivity and status at a glance via the web portal
View summary or individual test results, review logs, or custom reports
Enables your management team to better manage costs, profitability, and operator productivity in ways not previously possible
Partner with Ultratec-leaders in data security
Ultratec is an award-winning provider of integrated data security and IT recycling solutions
Ultratec have been awarded 5 DIPCOG approvals, along with CESG and ADISA accreditation for Secure Data Erasure and Data Destruction Services & Equipment
Ultraerase® is the world's first CESG approved hardware based multi drive erasure system can perform a NIST 800-88r1 Clear/Purge function if elected
Genesis can provide a certificate of data destruction to meet your compliance requirements
Standalone data wiping software is no longer required