Who is UltraRecycle?
UltraRecycle is the recycling division of the Ultratec Group.  We have over 25 years' experience of safely, securely and environmentally disposing of redundant IT assets across a wide industry sector, plus Central and Local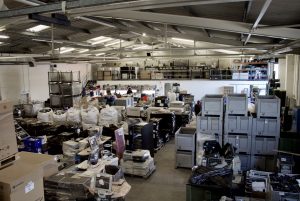 Government, the Military and NHS.
Protecting your Data is our overriding priority.  We work with our customers in partnership to provide a secure chain of custody and eliminate the data security risks associated with disposing of end of life IT assets.  Integral to this process is also your environmental compliance.  Our extensive experience and accreditations in this area ensure you can be totally confident in our services.  As part of the Ultratec Group, we have unparalleled solutions for Data Destruction on and off site, Data Erasure and Asset Recovery services.
Call us now on 01462 812000 to find out more or click below to explore our services:
UltraRecycle, formerly Else Refining & Recycling, is a specialist Waste Electrical and Electronic Equipment (WEEE) recycling company, focusing particulalry, but not exclusively, on redundant IT assets of corporate and government institutions. We have over 25 years experience of handling large roll out programmes for companies with a nationwide presence. Additionally, we handle the WEEE for a number of manufacturers and also process the waste for WEEE Compliance Schemes. .